If you are passionate about outdoor activities, adventure and thrill-seeking activities, then you will know just how important it is to make sure that you have the correct gear, equipment and gadgets for any chosen discipline and any given situation.
No matter what kind of activities and hobbies you are into, there is no doubt that a great sports watch is a must-have accessory. Whether your passion is for backpacking, biking, multisports, water sports or anything else, having a specialized wristwatch that can be for everyday use as well as a dedicated activity smartwatch is something that can be invaluable to the overall experience.
Of course, the wider fitness market is more than aware of this, and as a result, there are countless different timepiece adventure watch options available in stores that claim to do everything from fitness tracking to sleep tracking and also be a heart rate monitor and check blood oxygen levels.
The problem, of course, is deciding which is the best watch for you. To help, here are some suggestions for the best adventure watches out there right now, broken down by the functionality you might regard as a top priority.
Best Overall Outdoor Watch – Garmin Instinct GPS Watch
If you want an outdoor watch that is going to be able to do everything you ask, then the Garmin Instinct GPS Watch is definitely the one for you. Packed with tech, the watch's desirable features include a whole host of GPS-based functions, compass and barometric altimeter that ensure you are going to be ready for anything in your outdoor adventures.
With a battery life of 14 days from a single charge, it's the perfect blend of old-school barometer timepiece and the very latest in modern smartwatch technologies. The GPS is linked to constantly updating satellite systems which mean you are always going to be provided with the best and most pinpointed information. Another great watch in the same brand is the Garmin Forerunner.
Best Outdoor Watch For Hunting – Suunto Traverse Alpha
If your main activity is fishing or hunting, then the Suunto Traverse Alpha is a great choice. It boasts two types of navigation in the form of GPS and GLONASS (Global Navigation Satellite System – a Russian alternative to GPS) and has special features for hunting like shot detection.
The location tracking is based on the moon phase calendar, which means that you can determine the best fishing and hunting times.
It is as durable as you would expect and shock resistant so that it can operate in extreme weather conditions and a red backlight for use at nighttime. It can work in a range of temperatures from -5 up to 140 degrees.
Best Outdoor Watch For Android Users – Fossil Sport Smartwatch
With an easy-to-read display and a cool silicone design, the Fossil Sport Smartwatch is ideal for anyone loyal to Android! It is a solid addition to the world of fitness watches being reasonably priced and possessing a 24-hour battery life for easy wear during the day.
It offers all the classic features like heart rate and fitness tracking, plus all of your phone notifications right on the screen. You can even access your Google music via Bluetooth headphones, and you can match the watch to your personal style thanks to a huge range of color choices!
Best Rugged Outdoor Watch – CASIO G-SHOCK Mudmaster GWG1000-1A3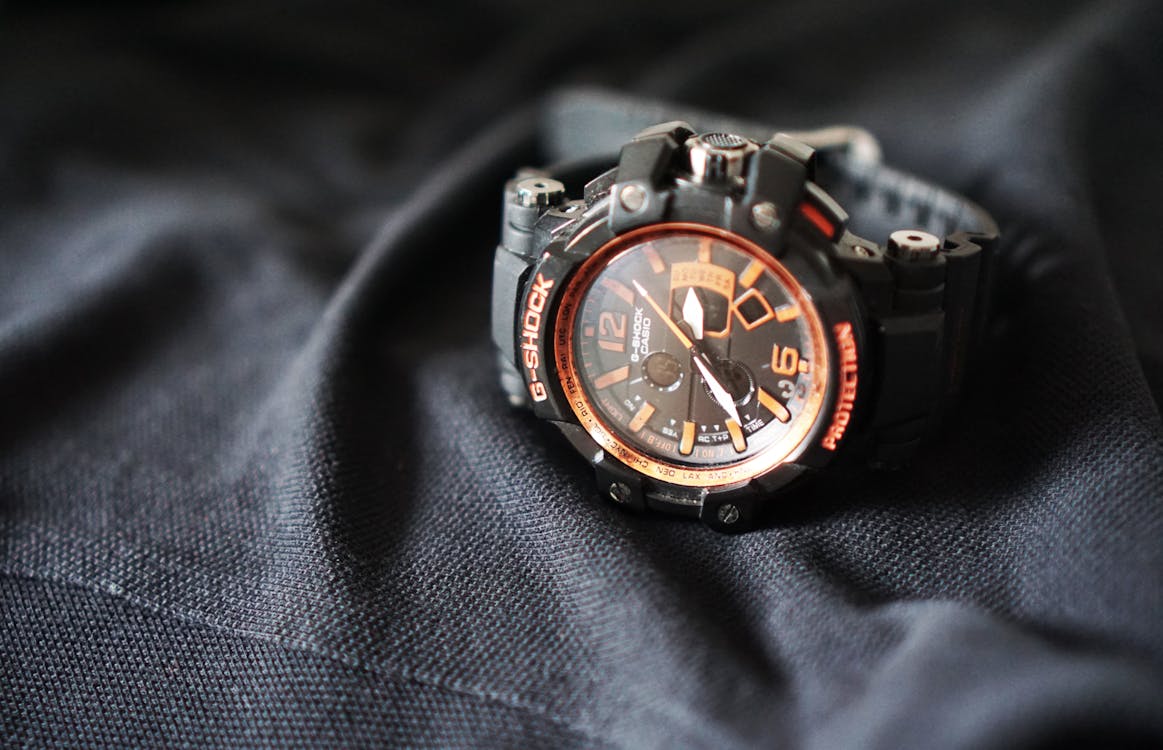 The Casio G-Shock Mudmaster is about as rugged as it gets when it comes to watches that can take a real beating!
Features include altimeter, thermometer, barometer and digital compass, making it perfect for something like mountain backpacking. It is one of the more expensive watches on the list, with it does have a staggering 25 month battery life! Due to its sturdy nature, it is great for climbers who want to spend time off the grid in wild backcountry.
Best Budget Outdoor Watch – Timex Ironman Classic 30
If your outdoor activities are more standard athletic-type hobbies like running, biking and swimming, then you might prefer something a little more simple like the Timex Ironman Classic 30. This watch is budget-friendly: it's not exactly a smartwatch, but is more than able to get the job done for you if you are only interested in metrics like tracking laps or timing your efforts. It has a real-time counter, countdown timer and is water resistant to 330 ft (100m) so it's suitable for snorkeling but not diving. The lower price tag will be attractive to many.
Best Outdoor Survival Watch – Garmin Fenix 5X
Did you know that the Garmin Fenix 5X contains an unbelievable 100,000 topographic maps covering the whole of the United States? That clearly makes it the best possible choice for people who are planning on hiking and mountain biking around the country!
Its award-winning navigation tools make it a true survival necessity. Battery life is up to 12 days when in smartwatch mode, and the built-in sensors can tell when you are on difficult bike paths and trails. You will be pleased that it is also scratch resistant and coated in stainless steel. You can buy items easily thanks to Garmin Pay, and if you want a different watch in the same brand, the Fenix 7 is also a great choice.
Best Outdoor Watch For Endurance Sports – Suunto 9 Baro
If you are a glutton for punishment and prefer your sports to be of the extreme endurance variety, then pick the Suunto 9 Baro. Some athletes don't necessarily need to track the minute details of their heart rate, but endurance athletes like to measure every detail of their performance. This is the watch that can do that for you, with more than 80 different sports modes from swimming to golfing and a water-resistant design up to 100 meters.
Best Outdoor Smartwatch – Apple Watch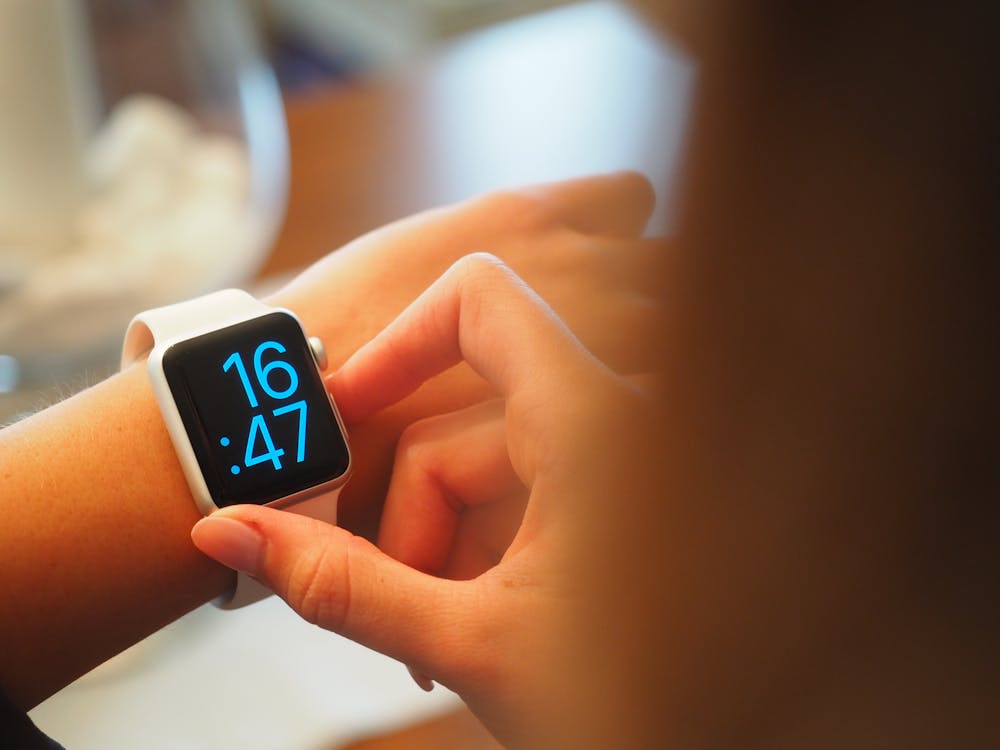 You don't need us to tell you all about the Apple Watch, because we are sure that you see them on the wrists of people in the street every single day! When it comes to smartwatches for everyday use, you can't do better than the latest in the Apple Watch series.
For lighter activities like gentle hiking, cycling and playing sports, it has everything that you need to track progress. You can download from a massive selection of apps and the latest versions even feature a blood oxygen sensor. With an attractive bezel, a familiar touchscreen and all-encompassing fitness tracker, this is not like any kind of classic chronograph, that's for sure!
Best Outdoor Watch For Solar Charging – Casio Pro Trek
This watch does everything that you need, being super rugged and maintaining great water resistance with a comfortable cloth wristband, and a huge display face combined with a slim band design for daily wear.
The Casio Pro Trek has the ability to solar charge, making it ideal for outdoor adventures where getting back to convenient electricity or running out of battery power isn't an option.
There's quite a range of models, each with progressively better features. for example, the top-of-the-range model has the most accurate triple sensor for altitude, barometric pressure, and direction readings. The wearer can be forewarned about upcoming weather events thanks to a Barometric Pressure Tendency Alarm.
Being water resistant up to 200 meters and illuminated LED it is great for wet environments and nighttime operations. In this sense, it is a perfect extreme hiking watch!
Best Outdoor Watch For Everyday Wear – Nomatic Watch
If you are looking for a watch that can be worn every single day but also packs some punch in the feature department, then the Nomatic Watch is ideal. It is water and weather-resistant and uses an award-winning Swiss movement to provide amazingly accurate day and time markers.
If you are looking for a watch that you can wear to work and then go on a hike with at the weekend, this is the kind of timepiece to fit that bill. It can't handle some of the extremes that the others can, but at its price point, it is perfect for lower-level outdoor activity.
How to Choose an Adventure Watch
When you want a watch that is more than an attractive timepiece, it should meet the needs of the purpose you want it to fulfill. A watch with every feature that isn't able to handle extreme temperatures is no good if you like to polar ski like one with a GPS mode is no good if you are in the wilderness.
Do a simple search on Amazon, and you'll be met with every type of adventure watch you can imagine, so the main piece of advice is to narrow your search to the specifics. Looking for "the best diving watch" on google is going to give you targeted results.
There are also some basics for an adventure watch whatever your activity/sport or outdoor hobby:
battery free
analog not digital
waterproof
survivable
visible
replacement strap
Ask yourself the question "do I need all the additional functions?". Remember the more functions, the higher the price.
Sell Me Watch – Sell Your Old Watch For A New One!
Sell your old watch to get extra cash for a watch that matches your outdoor adventure needs! For over 25 years Sell Me Watch has offered buying, selling, and trading services for valuable wathes such as pre-owned and vintage Rolex, Cartier, Patek Philippe watches. Please feel free to contact us by phone, by email, or visit our location for a free quote on the watch you're selling.